Powered by

EMF
Forms Online
Report Abuse
---
Bernie: Frankie, It was great that you were able to ride the Grand Fondo along with Jake. I know it made a lot us simple local racers proud to have the chance to ride with pro's. When you see Jake please pass on my thanks for pulling us all the to Ubly and back to Frankemuth. I was impressed with his strength. It was the best training ride I have ever participated in and I know it will assist me in my future races here in Michigan. I hope I get a chance to ride with any of your team again in the future. I wish we had the guy with the moped to motor pace on our ride home. Good luck with the team.

Frankie: Bernie, the Frankenmuth race and the Gran Fondo were a lot of fun. I'm glad we had a good group going out and doing the 28 miles in an hour, thanks to Jake, made it a blast. Jake is super strong and it a big asset to the Kenda p/b Geargrinder team. I hope to ride with you again.
---
T.p.: do you believe Floyd?

Frankie: I think Floyd has some very detailed information that needs to be investigated. It doesn't matter his past, his mental stability, or the timing of this information. What does matter is that the respective agencies learn the wrong doings from the past so as to change the doping path that cycling seems to follow. As with other confessions by other past cyclists their is no financial gain for Floyd here, so it's hard not to believe him.
---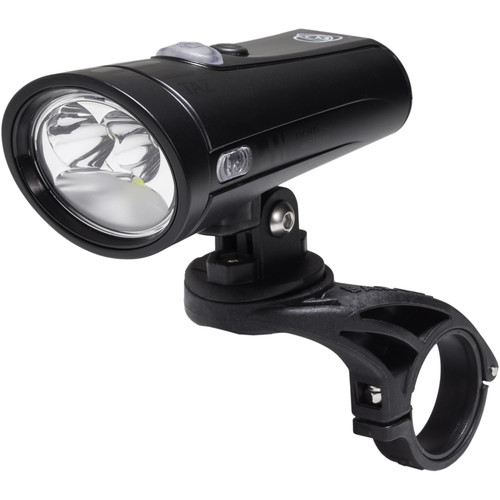 Light & Motion Taz 1500 LED Bike Light / BarFly SLi-D Mount Combo Kit $274.99 1500 Lumens
---
Seth: Hi I live in a small town outside of Lansing mi. I'm 15 years old and just started racing but iv bean riding for a few years. What do u recomend for my training

Frankie: Seth, it's important to keep your training fun. The best way to do that is to do group rides. Hopefully, there are some other riders around where you live to ride with. Group rides keep the training fun, they provide race speed, and better intensity then what you can do when riding by yourself. You should do 2 days of endurance, about the distance that your longest race would be, and 2 days of some specific training. Specific training can be sprints, intervals, spinning, climbing. The other days should be for rest and for just riding and enjoying the bike. Good luck at the races.
---
Nicholas David: Will you come out to the May Critical Mass in Detroit? It's on May 28th and leaves at 7pm from the athletic fields on the corner of Trumbull and Warren on the campus of Wayne State.

Frankie: I wish I was in town but I will miss the Critical Mass ride. I'm doing a race and Grand Fondo ride in Frankenmuth, Mi. It will be my first race of the season and anytime there is a group ride I will always try to join in. Please let me know when the next Critical Mass ride is, I want to be part of the movement.
---
Rich: I live in Oxford, MI and have enjoyed riding along with you at the spring training racs over the last couple years. Do you have plans to do them again this year?

Frankie: Rich, I hope to be able to the races, I also enjoy doing them and the racing is great. I'm directing the Kenda presented by Gear Grinders team this year so I'm not sure how my schedule will pan out. We have a great team and I'd love to even bring some guys to the AA races. I hope to see you there and good luck through the tough Detroit winter, it's never easy being a cyclist and living here in Michigan.
---
Sherri Stockner: Is there a 2010 race you plan to particpant in?

Frankie: Sherri, I'm directing the Kenda Pro Cycling team in 2010 so I will be present at many of the races. We have a great tream and I expect to take our fair share of wins this season. Personally, I will do some local races in the Michigan area. The Tour de Mt. Pleasant and Milford crit are two great races. I hope the Allen Park race comes back because I've always enjoyed racing there. I also plan to do the IceMan in 2010. I just hope the race has the same great weather as it did in 09.
---
John: Frankie, I live in Livonia, MI. I am an ultra distance racer and am super sensitive about who works on my bikes. I have a Guru, Litespeed, and Trek. Could you recommend a local bike shop in or around the Dearborn area that has a trusted, experienced high-end bike mechanic? I'm having difficulty finding one. Thanks.

Frankie: John, if you are super picky and sensitive about your bike work then you don't go to a shop. You go private. It's very common in California or Texas where perfectionists, or top athletes, will take their bikes to private mechanics that they trust and will do a great job. If you need more information hit the contact button on the web page and send me a note. By the way...you have some nice bikes.
---
David: I just wondered if you still visit Dearborn, MI? I grew up there myself and remember you riding down Outer Drive back in the day.

Frankie: David, I still live in Dearborn so you will still find me on the same roads including the Outer Drive loop. I ride in the morning with a small group of guys in my area and we have a great time going to downtown Detroit, Northville, and the Grosse Isle. There is not a whole lot of roads to pick from but we have some pretty interesting routes.
---
Lisa Whalen: I just wanted to say that I admire you for being honest about using EPO. I love watching cycling, but it feels tainted at the same time. I would love to watch it and believe that (at least most of) the riders were clean. I hope that your honesty will be contagious, so I can go back to enjoying the sport fully and not just half-way. Thank you! Lisa Whalen, Berkeley, CA

Frankie: Lisa, there are many riders and teams currently trying to make a change in the sport. As the sport goes through some of this transition it can be difficult to discover new positives in the races such as Rebellin. Many say that this means that the testing is working but every time we have a new infraction on the rules it does continue to push the sport backwards. I believe there are many racing clean and we have to have faith that the riders will turn the corner towards a new sport that we can respect and have trust in once again.
---
John Richards (UK): I see Manuel Beltran has had his 'B' sample confirmed as positive. Add his name to that of Floyd Llandis, Roberto Heras and Tyler Hamilton, it seems that although Lance was drug-free, the team was happy to ignore systematic cheating by the domestiques. Do you think in the light of this that Hamilton, and come to that UK's David Millar, should be allowed to compete in their country's national championships ?

Frankie: John, do you really think that domestiques are doping but the captains or leaders of teams are not? If this were the case the domestiques would be winning all the time and the others would be in the back of the pack. As for Tyler and Millar, they both served their time. Despite the fact that one lied the entire time and one fessed up to the truth, they both served their suspension and can race. I have no problem with them racing their national championships, they shouldn't be denied that opportunity.
---
Danny M: Here's a follow up. What do "roadies" have against triathletes? Why?

Frankie: I think "roadies" are jealous that triathletes can run better then they can. Not hard considering most hard core roadies barely like to walk.
---
Jon Eversett: Frankie, I've just finished Lance to Landis and was hugely impressed by the stand taken by you and your wife. With this in mind do you believe that deomstrably clean teams like Slipstream/Chipotle have a serious chance in today's peloton? PS Congratulations on your new DS role with Proman

Frankie: Thanks for the kind words. I'm directing the Proman women's cycling team part time for Liberty Classic and Nature Valley. I am very much looking forward to it and I'm confident that we will be able to do well. Both are great races.

Teams like Slipstream, Highroad and others all have a different mentality today towards doping in the peloton. It's just not tolerated and the press will jump down anyone that thinks or acts otherwise. Because of this I believe cycling is turning the corner and many riders can now compete on a clean platform and not feel they are being left behind because of cheaters. This will be an important year for the Tour de France in terms of perception and clean racing. I do hope it is a year we can just concentrate on bike racing and forget many of the other stories that have dominated the TDF headlines in previous years.
---
Marc Reisman: Hey Frankie, First of all I would like to let you know that I have an inordinant amount of respect for you in standing up and telling the truth. My question is, what are your future plans? Are you looking to hook on with another team as director? Good Luck to you in your future endeavors.

Frankie: Marc, thanks for the kind words. I would like to direct again, I enjoy doing that very much. It's a great feeling to work with the riders and to win races by implementing the right strategy. I look forward to working with the Z team at the Tour of Pa. Right now I am concentrating more on broadcasting and announcing. I enjoy doing the commentary and I feel like I'm in the race when I do the announcing. I just recently did the track world championships for WCSN. It was a great event and very exciting. I hope more will follow.
---
Joseph Rodriguez-Tanner: Will you come to our Alleycat (www.myspace.com/alleycatdetroit) and show the cycling community what "getting back to your roots" is really about, even if only to let Lance know that you're less over the hill than he is?

Frankie: The Alley Cat ride was a blast. Despite the cold temps I couldn't believe the amount of riders that came out to participate. It was great to fly though downtown Detroit along the streets to the different checkpoints. Lots of fun, a great group of people, and I'd recommend it to anyone looking to change the cycling monotony and try something different. Keep me in the loop for when the next one is.
---
Adam Ryan: Greetings and Happy Thanksgiving from the U.P. Firstly I wanted to commend you for your courage, I just read "the book" and I am a huge fan of cycling and I believe it is people like you that will ultimately rescue this beautiful sport. My Question: I live in a place with a long winter, if I want to ride this winter and of course deal with some snow and ice what kind of tires/wheels do you recommend. The indoor trainer gets old. Thanks and God Bless!

Frankie: Besides bundling up to get through the winter having the right equipment can help also. As for wheels, you want cheap but reliable. The Neuvation wheels are a great price and a great value. They roll really well and stand up to the bumps in the road. Plus put in some heavy duty tubes and get some of the foam filler stuff to spray into the tube in case of any punctures. The spray stuff works great. One other added benefit would be some fenders. In Seattle it's almost required for anyone riding. If you are not into fenders then at least get something to block the spray from the rear wheel. This will make a huge difference. It can be store bought or if you use a saddle bag just cut up a 2 liter bottle of coke to make one flat side and push it under your saddle. Stay warm and train smart.
---
Rex Crater: Why has Rock & Republic selected the most demonic looking jerseys ever? The jerseys don't look sinister in an Oakland Raiders kinda-way, they look evil in a satanic 666 kinda-way. Why is that?

Frankie: I think the Rock jerseys are aggressive, stylish, and different. They appeal to many because they have that sinister look. The Rock logo is what it is, can't change that but it would be hard to make a cute looking skull. Perhaps put a bow on the top to tame the look.
---
David and Judy Rowland: My wife does Ultra-marathons and I have done over a dozen Ironmans included Hawaii several times. We would like to give Kudos to you and especially your wife. We have been close followers of the tour since LeMond. In todays culture to stand up for whats morally right is often harder than being a "Champion". We've discussed your situation with our 14 yr old son and seen a positive change in awareness of balance in focusing on competition and character. God Bless!!

Frankie: Thanks for the kind words. I appreciate your support. Obviously, your family has some great genes and I hope your 14 your old follows in your sporting footsteps. I also hope he understands that the decisions that will face him are not always black and white. It's important that he tries to live up to the expectations of himself, and not because of the pressure from others.
---
Lou Barone: Hello Frankie, It is an honor to write you. You do a great job in all your telecast with VS. I am a big fan. I raced in the 80's and early 90's as a category 3 rider. My claim to fame was that I got to race against Brett Emery in the Wisconsin state road race. I finished 15th. Now days I still ride, but I would like to do some races again. I had a concept which I would like to run past you. I found an old steel framed bike which is extremly heavy. I have been training on it. I outfitted it with clipless pedals, and my daily rides are way harder. Do pros ever use this kind of strategy to improve there overall fitness level? I analogize it to a batter using a donut in the on deck circle before he takes his at bat. I have jumped on my racing bike, and it feels like a feather after a week of riding my steel sled. Any thoughts from a bad ass rider like yourself?

Frankie: Lou, what you are doing is great for training. I believe in training with the heaviest wheels you can find. This added resistance and drag will improve your fitness and make it tougher to stay in the group rides. That way when you put on the race wheels you will be flying. The reason I only say "wheels" is that I believe it's important to have your training bike and race bike be the same, or as close as possible. If you can have the position on the heavy bike the same as the race bike then you have the best of both worlds going for you. Keep up the work on the steel sled.
---
Leandro Landim: In a question made by Gabriel Vargas you sad that downtube shifters are used now strictly to save weight. Well I do not understand why Lance Armstrong used this system all his career, even on 2005. Wasn't Trek able to build a 6,8kg bike(UCI limit) with STI on both sides?

Frankie: Leandro, I'm sure TREK could and did make a light enough bike. But the downtube shifters have no advantage over the STI, if anything it's worse because you have to take your hands off the bars to shift, or you have to sit down to shift when out of the saddle. The downtube shifter is simply to save weight. It also plays into the psyche by mentally knowing you are doing something to trick the bike out. Anything to get a little edge. If someone knows a better reason to bring back downtube shifters then let me know.
---
lances biggest fan: hi having just finished readin david walshs book from lance to landis id love to know why you stabbed lance in the back not only stabbed him but also twisted the knife so hard he could hardly breath you say your a friend of lance an that you love cycling someone who loves cycling doesnt do what you an your wife did to lance regards andy

Frankie: Andy, I guess I should have lied under oath when I was subpoenaed and hoped that the other six in the room did the same thing. That way I could bunk right next to Marion Jones for lying while giving testimony in a case.
---
Gabriel Vargas: Why some pro cyclists, in certain races, uses downtube shifters on his bikes? Weight or shifting quality? Thanks!

Frankie: Downtube shifters are used now strictly to save weight. The quality and precision of shifting with Shimano, Campy and SRAM is pretty much spot on. Everything now revolves around saving weight which is why you see carbon on cranks to forks, stem, seatposts, etc.
---
Steve G.: Frankie, What have you seen as the best method for competitive cyclists to take added weight off in the off season in preparation for the upcoming race season?

Frankie: The winter is a hard time to control weight because it's not as active a period as the summer cycling season. Watching what you eat and staying active will help. Weight work also helps because you continue to burn calories after lifting weights as your body recovers from the weight workout. There is no secret. Smart training and nutrition will get you to the early season ready.
---
Alan: Does the Rock & Republic team have a website? I wanted to find out more about your team but didn't see much out there except for Austin Carroll's blog.

Frankie: Alan, take a look at www.rockracing.com. This has some information and next year, for 08, it will have more content. Also, coming up is the rock clothing for sale and other merchandise. Enjoy clicking around.
---
Brian: Did you ever get in trouble for smashing that Fondriest frame during your Cofidis stint?

Frankie: No, I never did. They never knew how the damage was done and I finally got a new bike that I liked for the remainder of the season. It all worked out, luckily.
---
Paula: I was stunned by the news that Disco is disbanding. Now Unibet is bailing out. Slightly different scenerios, but actions taken because of the infighting of the cycling federations and, of course, their arrogance. What is the reaction of cycling fans and sportscasters, Liggett et.al., to the news? Also, do you think this is a wake- up call to the organizers and the federations?

Frankie: I believe they have already had the wake up call and this is why certain organizations and teams are taking the actions they have. Unibet leaving and Disco folding are only the two that we know. Think about how many sponsors Disco would have approached and to have them all say, "no thank you", says a certain thing about our sport. The problems now are hitting teams, organizers, and riders financially. They can not shrug that off because many times this is the entire reason they do business.
---
Dr. Bonk: Hey Frankie! Willi Balmat seems to be an elusive fellow. Why hasn't he written a cook book yet? He's been working the grill for pro racers for about twenty years now, eh?

Frankie: Willy is a cook not a writer. Besides, cooking for the pro riders during the TDF, Giro, or Vuelta is not exactly cook book material or even something many would want at home. Don't get me wrong, Willy is a great chef but during the races the meals are stripped of any butter, oil, and fats. The things that usually make meals extraordinary. Now, if you want a recipe for rissotto or pasta then these are the TDF specialites.
---
Chris (Anaheim): Frankie, it seems like with your honesty, it has opened up Pandora's Box. Every major name in cycling, present and past, is being mentioned in connection to doping issues. I know you know Floyd, and with his trial having come to and end, what are your thoughts on the possible outcome? I thought his attorneys were just pitbulls and attacked on everything that they possibly could and did a tremendous job. I think 2 of the 3 arbitrators will find him not guilty and he'll be able to resume his racing career. Your thoughts?

Frankie: Chris, Floyd and his crew were "pitbulls" all right. They did attack a lot and brought a shadow on some of the lab practices and questioned those doing the testing. Even with the viciousness of his camp towards others I still believe it comes down to simply explaining why there was exogenous testosterone in his multiple samples. Whatever the arbitrators rule I have a feeling this case will continue a long time.
---
Smack: Hi Frankie, can you tell me what any of these nicknames mean: Jefe, The Hook, or Bones? Thanks in advance.

Frankie: This is funny and these were some of the best times from my cycling past. I can't elaborate further but those that know the nicknames know the meaning. Thanks for making me laugh. p.s. I think I know who you are, at least I hope I do.
---
Brett Akers: Frankie, Where can I get a Team Rock kit? They kick ass!

Frankie: Brett, many have asked for these jersey's but they are not available..yet! They are only producing enough for the team and keeping a very limited supply. I'm not sure when they will be available for sale and I also think they are pretty cool.
---
RR: Are you the director of the Team Rock? I know David Clinger has amazing talent. What do you think of him? Best of luck.

Frankie: Yes, I'm working with a fabulous new team Rock and Republic. They have big ambitions and long term goals to grow the team to make it to Europe. Clinger has always been a big talent. This is the reason he has ridden on some of the largest teams in the world, won races, and continues to race well. I expect to see a lot from him in the second half of this year.
---
wes: how can i get taller .i'. 25 years old and i'm 5.8".

Frankie: Wes, hang upside down for a long time. The vertebrae will stretch. Think about how long you have been walking and how gravity has constantly pushed down on your spine. It's time to get even and taller. Check with your doctor first.
---
Lee: Hey Frankie!! Can you remember any of the other Americans that were on the Motorola Team? I have you, Lance, Roll, Julich, Tomac, Hampsten, Hincapie...Im sure I missed a bunch.

Frankie: How could you forget Hincapie, Livingston, Julich, Armstrong, Steve Larson. There might be a couple more but I'd have to check. I hope this helps a little.
---
Mark Macaulay: Tubular or clincher?

Frankie: I hate to glue tires so I go clincher. The technology now with clincher tires is so superior to how it was in the past that the difference between tubular is not as noticeable. Much easier, less of a mess, and they ride great now. Also, with all the carbon wheels out there the process to glue on carbon is long and if you don't know what you are doing that could cause a mess of lost skin.
---
What is the average interval time for leading the draft on a flat in the tour? Is it 15 seconds, or minutes at a time?

Frankie: The time depends on the situation. If it's a breakaway and riders are trying to go fast, the time will be short, 20-30 seconds and then they will sit on to take a rest. If it's a team pulling on the front, to chase down a break at a steady pace say 25mph, then the pulls will be much longer: one minute to two minutes. The faster the pace the shorter the effort on the front, same thing with a team time trial.
---
What do you think about the Puerto affair? It seems to end in a disasterous way being shelved by the judge?

Frankie: I agree that it does not seem good. Does shelved mean put on the back burner, can other people use the information, or can it be brought back to the table again? The problem again is with closure. Cycling needs closure on many of these cases in order to move forward. Cases that last for years only continue to drag and put cycling in a negative light. What would help tremendously is if we could have closure on the items that seem to be everywhere in cycling right now.
---
Matt: Did you get fired from the Toyota United Team or did you leave? BYW- they are doing great this year.

Frankie: Matt, I pretty much got fired, according to them, for not attending a race. The team has some great riders on the team so they should do well. Dominguez's win at TOC was huge and should give him a big boost of confidence. He is fast and sometimes it's the confidence that is missing. Look for England and Baldwin to do well at Georgia along with Manion. Of course a power like Vogels is never to be left out or not spoken about.
---
Your thoughts about the battle between UCI and ASO?

Frankie: I have not followed everything. I think it's great the idea of the PRO Tour to have a series of races with a sponsor that the media and fans can track and follow. I find it wrong that an event organizer can not invite the teams and riders that they want. Both sides have a large image to protect and that ego is starting to interfere with events, teams, and riders. I don't believe it will get settled and the teams are going to end up fighting and splitting. Half will side with ASO, the other half with the UCI. Then we will really have a mess.
---
Joey: Hey Frankie! I do XC MTB in Australia, and wanted to know the best type of training, for road. I want to work my arse off to turn pro, so don't hold back! Whats best? distance incorporating strength? etc etc? The help would be awsome!

Frankie: Joey, for road racing you need to have a combination of strength, endurance, and speed. It's different than MTB training. To gain endurance try to ride one hour longer then what you are used to for a long ride. For speed do a combination of accelerations, intervals, and sprints. Each exercise gets it's own day. The most important is strength, which you should have from MTB. Racing is all about power so work on doing short efforts in large gears. Good luck and if you need coaching let me know.
---
Michael McD. : When I visited France this past autumn, I picked up a copy of the book "L.A. Confidentiel" and the new "L.A. Officiel." These books by Walsh and Ballester received very little coverage in the U.S. and Lance Armstrong brushed them off as pure slander. Considering that you and your wife are quoted in both books, extensively so in the new book covering the SCA trial, I was wondering if you would lend an opinion as to the veracity of the books. Or in the least would you comment on the general accuracy of the citations of you and Betsy?

These books make some serious allegations about the level of doping Lance did. Most Americans I know, not being able to read French, seem inclined to accept Lance's denials and his claims that the books are nothing but slander. Since you rode with Lance, were interviewed by the authors, and were dragged into the SCA trial, who do you think I should believe, Lance or Walsh and Ballester? Thanks for lending clarity to a touchy issue.

Frankie: You had the same problem I did, because the book was in French I never got to read the whole thing. From the parts that were translated through the press and internet I did not read lies - I read the truth. Much from that book made sense and many parts I remembered. My statements in the book, but more specifically from the SCA case, are also truthful. If you want to figure out who to believe then you should believe Betsy and I. We have nothing to gain compared to the others.
---
Ann: Hey Frankie, Are you doing the Tour de Georgia this year? My kids and I have enjoyed seeing you the last 2 years and it won't be quite the same without you!

Frankie: Ann, I am planning on going to the Tour of GA. I hope to be able to have some local media opportunities to promote and speak about the racing action. It should be a great race. I especially enjoy it because my PRO SERIES camps go on the same roads so it's always great to compare times.
---
cyclingfreak: I am a 25 years old cyclist i am doing it for 3 years but i have a little problem and that is, i live on a island. cycling is popular here but nobody gets a chance, my question is what are the chances for a athlete of this age and living on a very smaal island to still make it in the higher levels of cycling, are there like try- outs or something else

Frankie: Great question, and the first thought that comes to mind is to get off that island with your bike for a trip. Even in the states, I know it's different, people travel out of state to go to the big races. If you have a racing license you can race here in the us or in some other countries. If you do well people notice. It's a ladder, once you start winning, people take notice and that is how they get on regional teams, national teams, pro teams, etc. Best of luck and now I'm curious what island you live on?
---
Mary oakley: Are you going to be at the tour this year. I really enjoy the tech talks you break down for us. thanks , I will be looking for you.

Frankie: I do plan on returning to the Tour de France in 2007. Versus is still planning on doing their great job covering the Tour and I will still interview the riders and provide the so called tech tips. This year should be a very exciting Tour de France.
---
Andrew H.: Hi Frankie, Thanks for being honest about the issue of doping. If more riders had your courage, maybe the sport could really make a change for the better. I'm wondering if you think, given the present state of cycling, anything will really change. Or will it be more of the same, just with a new cast of characters?

Frankie: Andrew, I believe the present state of cycling is changing. The riders are taking more of a stance, the teams are taking more of a hands on approach and the governing bodies know that if they don't help and support the clean ideals of sport that sponsors and the investments will die off, thus killing the sport. I honestly see a change and next year will be a sign of better times.
---
Raol Sanchez: frankie, why is your wife such a retard? Lance hacking computers, tsk tsk.

Frankie: Raol, this news is not new news. This information came out over a year ago in the SCA case and the newspapers keep dragging information out from the court papers. Why would it be so out of the question for Lance to attempt something like this? It happens all the time.
---
Ryan Morris: Hi Frankie, how come the front page of your website where it talks about how you did the Tour from 1992-2000 where there were "4" winners excludes Jan Ullrich?

Frankie: Because I'm a bonehead and didn't catch it until you told me. We will correct that and I'm glad to see someone is paying attention. Thanks.
---
Derek: I'm a junior cyclist here in Australia with my sights set on making it as a pro. Some of my friends tell me that you have to take performance enhancing drugs to race as a pro, as you can't recover quick enough to race day in day out. From your own experince - and I know this is a sore subject, would you say that it's possible to ride as a pro and do well, without resorting to drugs?

Frankie: You can absolutely race as a Pro and not take drugs. Racing day to day, week to week, and month to month is what cycling is all about. Standard training and rest and nutrition will let you compete. There are many riders who are racing clean and are successful. Don't let people tell you what will happen. Set your sights on being a pro and racing clean. I raced clean practically my whole life. Sure, I didn't win any Grand Tours but I did the best that I could.
---
Eddie Sutherland: One of the things i love about cycling is being able to eat lots of food after a ride and not worry about putting on weight. During the Tour de France typically how much, and what type of food would you eat in a day?

Frankie: Eddie, during the Tour de France you actually get tired of eating. Sometimes you have to eat even though you don't feel like it. The way the riders keep their energy up is to eat frequently. Breakfast will consist of pasta and rice along with the usual cereals and breads. Lunch is on the bike with pastries, nutrition bars, and drinks. Dinner is again pasta, rice, a meat, salad and usually yogurt for dessert. It's very routine and monotonous because pretty much it's the same food every day for three weeks.
---
Paul Kozy: Congratulations on speaking openly and honestly about EPO and doping. You have done something more difficult and honorable than winning the TDF. Sincerely, Paul Kozy DDS, Toledo, OH

Frankie: Paul, thank you for the support.
---
Matt: First I want to thank you for coming clean. It takes alot of courage and I don't think you should be criticized for it. MY question is what can I do to become a better climber? I'm 5'8 at 135lbs but I would like to produce more power. My MHR is 196 and RHR is 35 last I checked if that helps any. Thanks Frankie!

Frankie: First of all to be a good climber you must climb. I hope you have some hills around you. Secondly, climbing is all about power and there are ways on the bike that you can increase your strength and power. Ideally, find a gradual climb, 5-6%, that will last 3-5 minutes to get to the top. Ride this climb in a large gear where your pedal cadence is about 80RPM. Do 4 sets with 5' length. Also, accelerating up hill in a medium to small gear. Short efforts only about 30 seconds long. Decrease your speed and then, in the saddle, try to accelerate quickly by getting to a full spin. A couple weeks of these exercises and you will climb faster!
---
Pat: Why don't you tell all? Based on the following cyclingnews.com report, you have much more information than you've recently revealed. You said, "It's about coming clean and hopefully helping others not make mistakes." Please explain why you haven't told the whole story.

Frankie: Pat, I have told the truth. This information came out in the SCA case when I was subpoenaed by a Michigan court order and in this IM I'm learning about information. I will also include that the documents were not translated properly from the SCA documents. I do not say "That's crazy" when referring to someone not taking 25 injections. I say "it's crazy" referring to people taking 25 injections.

Also, this line is wrong: "That's when I realized that Lance was really fooling us when he said that everybody was doing as we did." The truth is "So, I realized Lance was full of shit when he'd say everyone was doing it."

The changes are small but they mean different things.
---
Ken Young: Why did you screw Lance over? If your claim to fame is that you rode with Lance why would you try and sell him out? Just wondering.

Frankie: I am not out to "screw" Lance over. Our paths have not crossed for many years and I was fine with that. The SCA case, which I was court ordered to testify, crossed our paths and Lance has attacked my wife and I. I also did not call anyone to talk to about the problems in the sport, they called me. And when asked point blank about performance enhancing drugs, I didn't know this question was coming, I only spoke truthfully about myself. I did not even speak about Lance with the reporter which you would never know from the way they wrote the article.
---
Paul: Why do you have such a grudge against Lance?

Frankie: My admission has nothing do with Lance. It's about coming clean and hopefully helping others not make mistakes. The NYT made it seem about Lance but in my conversation with them we did not speak about Lance. I talked about doping in sports and the problems we have and the horrible mistake that I made.
---
Why would I send my kid to your camp when you just admitted you were dirty in 1999? Why not keep your mouth shut and deal with it yourself. You think you are a hero now cause you admit you were dirty?

Frankie: I'm not a hero now or before. I spoke about this because what I did in the past was wrong and how could I speak out against doping knowing that I fell into the trap once. My admission is not pain free and I have nothing to gain from it but the hope that the sport will move forward in a respectable way. I have received positive messages and negative messages. I know I've hurt people but I hope that people won't continue to get hurt from something that we all love very much - cycling.
---
Joseph: Is shaving your legs neccesary? just wondering

Frankie: Joseph, shaving your legs is not necessary, anyone can ride a bike with shaven legs or hairy legs. But the shaved legs do help if you get massages, helps the skin heal quicker from crashes, prevents infection easier, allow you to tear on and off the bandages easier, and arguably looks better. It's up to you, the pros shave so many feel they should follow suit, but it's really your decision.
---
Tania: Hi Frankie Andreu, I saw you this morning (8 August) on CBC news, you were standing on the front lawn of the CBC building on Riverside Drive in Windsor (I live in Windsor and recognize the location). I was surprised to see you in Windsor, are you doing any public events in the area? I would love to see you speak.

Frankie: Tania, you are quick to write. I just did that the Morning of the 8th. I don't have any engagements right now in this area. There are some fall banquets coming up so perhaps I might speak at one of those. I hope the interview went well and I looked good on TV.
---
Chris: Frankie, has you relationship with your longtime friend Lance been fractured due to the court case you and your wife were involved with. Sounds like he denied everything you and your wife had to say about what happened. Best of luck with TUT.

Frankie: Chris, fractured is very nice way of putting it. I have not spoken with Lance in awhile, and I stand behind my testimony no matter what anyone says. I also am no longer with TUT, moving ahead towards other ventures.
---
Joan: What do you think about Kristen going on the Oprah show?

Frankie: I think it would have been a good show if she spoke about what really happened and what caused the problems between them. I think she skirted the questions but then again if there is a confidentiality agreement in their divorce papers then she is not allowed to talk.
---
natasha: what are some bikes you own?

Frankie: I own a few bikes. I keep rotating them and selling them and getting new ones. Right now I have a Trek Fuel Mtn bike that I love. It rides fantastic and is a blast to race around on. I have a Lemond cross bike, a Trek Madone, and a United bike. I also had a Felt for awhile, which I really liked but I can only have so many bikes in the house.
---
Question: Do you have any thoughts on compact drivechains? I think his big ring is a 50. For professionals, I can see the merit of swapping them on or off their bikes depending on the route, but what about for those that don't have the resources to change? Is it a personal preference thing? He seems to really enjoy it. Thanks!

Frankie: Compact cranks are great for those that live in hilly to mountainous terrain. It's hard and it's a strain on the derraileur to catch a 25 or 27. The compact takes that problem away buy providing the smaller chain ring. The down side is the 50 big chain ring but unless you are powering around using a 53x12 or 11 then you don't have a problem at all. They are very easy to put on and I think better than a triple because of the extra spacing away from the bottom bracket that a triple requires. You can't go wrong with a compact and many riders use them nowadays.
---
Dexter: Did you ever ride for the Ti Raleigh team?

Frankie: No, I never rode for that team. I started with 7-11, then Motorola, one year with Cofidis, and then US Postal Service. Ti Raleigh was a powerhouse team, many big riders came from there.
---
kevin thompson: do you regret not going to one of the european based teams ?

Frankie: I actually raced a full year with a French team Cofidis in 1997. It was a great expierence and I had a great time. The riders on the team that year were a lot of fun.
---
tyler: how much do you get by winning the tour de france?

Frankie:Tyler, the winner gets about 250,000 - 300,000 Euros. There is also prize money won for primes or points along the course and the first, I think, twenty places in each stage. Each team puts the money into a pot to be divided evenly among all the riders that rode the race. Sometimes a split is also given to the staff and directors.
---
Wannabe: Are there any coaches or coaching services that have some inside information and will give better results than all the others? How much difference do you think a coach can make to a racer?

Frankie: Wannabe, the way to change your name to pro or even cat 3 rider is to train hard. The best way to make the most of your time is to get a coach. Like all people you hire out for a service check for references and investigate. A coach will help you make improvements in many ways besides getting you out the door. Coaching is a valuable asset and you should consider finding someone. You will improve quicker.
---
Topher: What kind of 2-way radios did your team use, and what did you like/dislike about using them? In racing circles, was one brand/type favored over another? Do you plan on using the same type of radios for your upcoming 2006 team?

Frankie: Postal used a radios by Alinco. They worked well but I think the team does some tinkering with stuff to make them work better than normal. I'm not sure what radios we will use this year, we are still looking at the different options. It's important we make a good decision because radios now play a very large role in the racing.
---
Chad: What was your V02 max at the peak of your career?

Frankie: At the peak of my career I never had my VO2 checked. It was checked when I was younger at the Olympic Training Center where I had tests like these done. I was always in the high 70's or very low 80's. It's not a number I put a lot of emphasis on but it can give an indication early on of some potential. I hope you have high numbers.
---
Bob: Frankie, The latest issue of Bicycling Magazine has an article about Michele Ferrari. The article mentions that while some of the guys on the US Postal team worked with him, you refused to due to possible negative implications. Is this true?

Frankie:The Bicycling article is correct. There were many riders in cycling that worked with Dr. Ferrari. By choice, I was not one of them.
---
Hi, I've heard some rumours about the new US professional cycling team which is to be organised around You. Is it true? If yes, could you tell me something more about the squad and plans for next season. Regards.

Frankie: I am involved with a new domestic pro cycling team. I will be co director for the team along with Harm Jansen. We have a fantastic group of riders and I believe we will have tremendous success our first year. At this point I can't speak about the sponsors or the team until we have the official press announcement which should be at the start of January.
---
george: how long is the Tour de France?

Frankie:The Tour de France is 21 days long with 2 rest days. The route changes every year from going clockwise to counterclockwise around France. Check out www.letour.com for lots of information.
---
Hayduke: Hi Frankie. you say some things on your home page regarding the TdF and cycling in general, and i am confused as to your feelings. on one hand you seem to say that the TdF is good for cycling and lance's habits are too, but you also seem to espouse a belief that they have changed cycling in a negative way by saying such things as "no longer will the stars of cycling have to race or even show up unless it's for their ultimate goal. The access we once had at races will be gone and their presence will be nonexistent", as well as "in Georgia, lance did not come out to talk with the press. lance would vanish after the race to the comfort of the team bus and then talk into a tape recorder about his thoughts of the stage. after a few minutes someone would emerge from the bus and press play on the tape recorder to hear Lance's words. No interaction, no follow up questions, no presence". these are setting negative trends, in my opinion, but perhaps they are inevitable. but then you later say "...it makes a great Giro, but no one knows or can predict, how the riders from the Giro, that decide to also do the Tour, will recover. not even the riders can control this. It's as much a gamble as just focusing only on the Tour". this seems to be a contridiction in that you seem to promote all riders racing only for the tour. again in my opinion, it is in having one giant race that all riders want to win the most that creates this kind of racing style that lance has promoted and perfected. personally, i don't like it and miss the old gritty riders who did them all! go frankie!

Frankie: Hayduke, my point is that Lance has changed the way riders ride the races and pick the races to win. Lance can get away with not training and winning races. I'm not saying this is a good thing because we need the stars of cycling to show up at other races and race and promote the sport throughout the year. The Giro was great this year but it is a gamble to do the Giro and the Tour because they come so close to each other. It's not a gamble to do the early season and the Tour de France or the Giro and Vuelta, or Tour and Vuelta.

What Lance has accomplished is incredible and probably won't be repeated for a very long time, at least seven years. Cycling needs access to riders and at the Tour Lance was very generous with the media fulfilling his responsibilities. Many will miss Lance and many will be glad to see a new winner at the Tour de France. The riders need to decide if it's worth everything to skip other races to get top ten at the Tour de France, and the sponsors need to decide if they will accept the Lance way of doing things.
---
Robert: My father won an individual Silver medal and a team Bronze medal in the 1932 Olympics, he also obtained Participation Medals in 1928, 1932, and 1936...I, myself, was given a Participation Medal in the 1972 Olympics (although slightly damaged)............what should I do with them?...what are they worth? Should I continue to keep them in my safe deposit box?...should I sell them?...

Frankie: Robert, that is an awesome collection of medals. I have no idea of cash value for something so important. I would keep them and treasure them and pass them down to the next generation. These are monumental achievements that photos alone could never do justice. Enjoy the treasures.
---
Tom H ( ex-maple leaf cycling member): Did you participate in this years' 48th Tour Di Via Italia 2005 ( you know the infamous Erie St. Criterium in Windsor, Ontario, Canada)???????

Frankie: Tom, I missed Erie Street this year because I was at the Tour of Spain for one week. I do plan on racing next year, it's the highlight of the midwest.
---
Jim: I think your coverage of the tour is the greatest, especially the way you cover the every day events surrounding the race. It really gives a feel for what it's like to be there. One thing I've got to know though, did you get that speeding ticket when the traffic camera flashed in the middle of your report or was it the guy behind you that got nailed? We're not going to see your picture posted in the French post office are we?

Frankie: Jim, good question. All the cars we use at the Tour are rental cars so the tickets go to the rental agency and then eventually make their way to us. As of right now I have not received any notices. Last year Craig Hummer and I received two tickets which we thought was pretty good considering we were racing around France in our car. This year we stepped back a little but I think we still got busted.
---
My wife (and I have to admit myself) would like to see Jan Ullrich come over to Discovery for a year. Your thoughts?

Frankie: I don't think this would happen. Jan has been with T-Mobile for many years except one when he was with Bianchi. He also wants to be the sole leader and he won't have that on Discovery. I'm sure in Jan's head he also would like to win the Tour on T-Mobile and not on Discovery to prove that he would have won many Tours if it just was not for Mr. Armstrong.
---
nightrider5053: what is the amount of pay for lance armstrongs win?

Frankie: Lance and the team will take home the first place prize money of about 400,000 Euros. In additon to the other prizes they earned from stage wins, sprint points, climbing points etc. The team will take home about 516,000 Euro. This is split evenly among the team members and split among the staff.
---
DAVID: has any black american raced?

Frankie: Yes, many have raced. Mostly on the track. There have been some great black riders that have done very well on the track. As for the road, I'm not aware of any that have raced in Europe doing the circuit.
---
Mary Kyman: All the papers are now saying that in Armstrong's seven year run no teammate had won an individual stage until Hincape won last Sunday. I seem to recall a couple of years ago there was a member of Postal from Columbia that won a stage. He was the first rider from Columbia ever to win, and ther was great excitement. Am I wrong about this?

Frankie:Mary, you are right about Alviro Mejia winning a stage and I believe placing third one year in the Tour. But this is before Lance started his winning streak or pre L.A. Since Lance started winning the Tour in 1999, it's the first time for a teammate to win.
---
Amy: Do you know if George Hincapie is married?

Frankie: George is married and has a daughter. He got married last year to Melanie a French girl who he met at the Tour de France.
---
How much money will the winner of the Tour de France get?

Frankie: The winner of the Tour gets about 400,000 Euros which nowadays is starting to add up when you change it to dollars. It's a good amount of money but considering the effort and length of the event it pales compared to other monumental sporting events.
---
BW: Do the riders use vitamins to help themrecover during the Tour?

Frankie: Some guys use vitamins to help with their nutrition needs not necessarily for recovery. It varies between riders but with their extreme training and racing needs vitamins are usually a good way to make sure they are getting the nutrients that the body uses.
---
grant brown: what do you have to do to get the green jersey?

Frankie: A rider receives points at the finish and during mid race sprints towards the sprint jersey. The higher you place the more points you get. For example, for 1st in a stage the rider would get 30 points, 2nd would get 25 pts and so on down the line. Over the course of all the stages they keep track of the person with the most points and he gets the green jersey.
---
Frederick Schulkind: Are the distance markers, including the inflated ones at 20, 10 and 1 km remaining, moved every night or are they placed in advance along each stage route?

Frankie: The markers are moved and put in place each morning before the stage. The makers are 50,20, 10, 5,4,3,2,1. Same thing with the markers for the mountains. There are signs that indicate the start of the mountain, one kilometer from the top and of course the top. I hope this helps...frankie
---
Vic: Hey Frankie, What's 'quacking?' Thanks!

Frankie: Vic, "quacking" is slamming or hooking or pushing a rider around. Not necessarily making contact with a rider but turning into them, hooking them and swerving. All of this is quacking.
---
Dean Smith: What's the toughest classic, and why? And do you EVER get used to eating mayo on fries?

Frankie: The toughest classic is Paris-Roubaix. The beating you receive trying to race your bike over the cobbles is unmatched by any other race. It's a classic in more ways then one. As for eating french fries with mayo, I only tried it once and acutally it wasn't bad but I'm a ketchup man for fries. In Belgium it's actually a struggle to find ketchup at the frite stands but no problem to find vats of mayo. If your riding or racing what the heck are you eating that stuff for anyway?
---
they have the pre start list for the giro and the tour france. and 3 of the discovery riders are doing both. do you think that can hinder lance for the tour?

Frankie: The start lists for the Tour de France are only tentative. There will be many changes made between the Giro and the start of the Tour de France. If some riders do ride both races there is the possibility of it backfiring. A lot will depend on how hard the Giro is, if they finish, and how the start of the Tour de France plays out. Part of what makes cycling so tricky is figuring out the fatigue factor, sometimes you come out of a three week race flying and other times you are totally dead. If you are a climber it's easier to pull off the double because you don't have to kill yourself day after day to keep up in the mountains. I'd be surprised to actually see two riders do both Tours but I'll agree it will be some what of a gamble if they take that direction.
---
I have heard that lance Armstrong will ride Paris-Nice. Is that for him training/preparation for the classics or will he win that race. Greats and thanks

Frankie: Jordi, Lance is confirmed to ride Paris-Nice. Being that this will be his first race I don't know if he will have the high end race fitness to win. The race will help him prepare for the classics and I'm sure he will be gunning more for those then a Paris-Nice win. He is missing a Paris-Nice win from his long list of results so a lot depends on how the race plays out. The final day is very hard with a lot of climbs but I don't think Lance will have the fitness this early in the season to destroy the competition for the win.
---
Weaver: One snowy day, at lunch some of us riders had a heated discussion about what tires (tubular vs. clincher) the pros ride in the great tours and what pressures they typically inflate to. Hope you can shed some light on this contentious subject.

Frankie: Weaver, there is a pretty good mix of tubular and clinchers at the Tour de France. Some riders swear that tubulars ride and feel better and this was the case five to ten years ago. Now the technology in clinchers make them very similar to the handling and feel of tubulars. For the pro's, they don't get a choice. Whatever tire sponsor the team gets this is the tires they will ride like it or not. Inflation, they pump them to about 110-120 p.s.i. and less if it's raining and a lot less for Flanders and Roubaix with the cobbles.
---
fireman fitz: have you ever used those products like ozone cream that supposed to increase o2 flow? I am having a hard time believing it works but, then again I never used it.

Frankie: I've never heard of it and I would join in your skepticism in thinking that it would increase your performance.
---
How did you start your pro career? I know you rode as a kid, but how did you get to the pro level? Who did you talk to and stuff?

Frankie: I started young but I wasn't good when I was young. I started winning big races around when I was 17-18. Winning Nationals and other big events got me noticed by some bigger teams. I also had a few connections so it helps who you know. The biggest difference is racing the larger events where all the best are competing. When you win there then you prove something to everyone watching.
---
Tom: Frankie, Your diaries are hilarious, especially the older ones, and offer great insights (I have a feeling a lot of riders are, perhaps rightfully so, a little more politically correct on the diaries nowadays). My question is this: on the flats, when I ride with my team, I can ride longer and harder than most. Also, in terrible conditions (wind, rain, snow) I tend to be able to keep up a little bit better. However, normally, once we hit the hills, I'm out the back-- I'm a little heavy for a cyclist (5''6' and 155 pounds) and do train on the hills with some regularity. Do you recommend anything a little outside the ordinary for training on the hills? How much is too much for hill training? Should it be complimented with weight training?

Frankie: You should try to ride in the hills a few times a week. Also try to use small gear to spin up the climbs, kind of accelerating at 110-120rpm. The other way to increase strength, besides doing the gym thing, is to use a large gear at low rpm, 60-70, power up the climb. This combination of exercises will increase your watts and help you become a better climber.
---
Jordi Geijselaers: Hello Frankie, When is the new team complete for next year? Who of the riders are leaving the team? I know Landis en Pena. Thanks Jordi

Frankie: Jordi, the full team probably won't be announced until after the new year when Discovery officially takes over. Many of the riders are the same but as you mentioned Floyd and Pena are gone. Ventura is stopping and some of the others have not signed yet. The team has also hired Popovoch and Salvodelli, Roger Hammond, and others. Lots of changes but the final list we won't know for a awhile.
---
RJ: How can I get noticed for Junior Nationals? I've done some 4's races and had good results, so I'm looking to go higher with Juniors

Frankie: RJ, doing some 4 races is great to gain experience racing with the older and stronger riders. The next step is to do some bigger Jr. races. Some races like Super Week in Wisconsin or travel to some larger races that might be in your area. Also, send a resume and note to USA cycling with your intentions. This will make them aware of you and be able to put a name and face to results that you will achieve. I'm pretty sure the Jr. Coach is Danny VanHaute so look for his e-mail.
---
Ren-Jay: What can I do to get noticed by the big teams? I'd like to get in contact with TIAA-CREF because they have a team member just like me, 16 years old, Cat 4 looking to upgrade to 3. He's my age, and he's my category with a goal like mine.

Frankie: TIAA-CREF is a great team for younger riders. Try writing cyclevaughters@aol.com and tell him about yourself. Send your resume and you might get the response you are looking for. good luck.
---
Bernie: Frankie, so what is the most common injury in the Tour de France? See you at the Hilly, Bernie

Frankie: Bernie, it's probably broken toes. This is because all the specatators always jump out just enough to let a bike through and never enough to let a car pass. Needless to say the cars tires are much wider than the cyclists.
---
Jordi Geijselaers: Hello Frankie, I'm very pleased with the performances from dave zabriskie, a great solo in the vuelta and a great time trial in verona. My question: Can dave be a contender in one of the three grand tours in the future, I believe in that. Or do you have an other young American who can do a great result in the grand tours. Thanks Jordi

Frankie: Jordi, David is a huge talent and he is only fully realizing that now. He has had so much bad luck that it has been hard for him to focus. The end of the year this year you can see how with the right time and right training he can do much in the pro peloton. He has a good chance to do very well in smaller stage races for now and grow into the larger ones. David can time trial very well and with some improvement in his climbing he will become very dangerous.
---
John Fontana: Frankie, I am a reporter and I am trying to figure out if riders on USPS are considered employees of the Postal Service. Basically, tax law states that the withholding of income tax on wages applies only to employees. If the company does not withhold income tax the worker is considered a contractor (again, very basic here). Does USPS withhold tax from the rider's paycheck or is that done by a holding company that "owns" the team and contracts its services to USPS, which gets "naming rights" would appreciate help with this. thanks. John

Frankie: John, for questoins like these the best bet is to go to the source. They can answer these questions better than I could. Try Dosipow@tailwindsports.com
---
Jen: Hey Frankie, have a quick question for you. I was making a flight to San Jose,CA and ran into a guy who said he was part of the team. Been looking for him all over the internet but no luck. May be you could help? His name is Johnny James Genova??

Frankie: Jen, the official roster of the team can be found at www.uspsprocycling.com. Other than that there are no other members of the US Postal Service Professional Cycling team. There is a Masters team, not professional, so if the guy is over forty then that's a possibility. The USPS also help sponsor the Under 23 devolpment team with USA Cycling, again not professional. I hope this helps either way.
---
Todd: It was amazing how strong team USPS was at this years tour. How would you compare it to the 1986 La Ve Clair (SP) team with Hampsten, Lemond and Hinnault?

Frankie: The team was good this year but I don't believe it was as strong as the USPS 2002 team. That team totally dominated the Tour and the mountains. They came over the top of every mountain with almost a full squad and the only time the team broke apart was when the finished up a mountain. Even then they had three rides setting tempo. 1986 was a very impressive team but it's hard to compare the races back then and now. It might not seem long ago but much has changed.
---
Jeff: I understand you ride a 60 cm Trek. How tall are you?

Frankie: I ride a 60 cm TREK, I'm about 6' 2" and there is some seat post sticking out. I liked to have the smaller frame for extra stiffness and for handling. I never rode the 62cm so I'm not comparing, I just liked my 60cm. I just got a 60cm Madone and it's fantastic.
---
When on the tour, how do the riders choose whether or not to wear a helmet. Somedays you see everyone wearing one and other days no one. thanks

Frankie: The rule is that everyone has to wear a helmet at all times during all races. The exception is that you may remove your helmet if the finish is on a climb of seven kilometers or longer. So, many of the riders have their helmet on all day and then just for the final climb they remove it.
---
can you please tell me what chainring or crank, did lance use at l'aple d'huez time trial today july 21. thank you, john

Frankie: Lance used 39x53 and he had a 14x23 in the rear. He used the new Bontrager 55's carbon rims, they weigh only 1000 grams/pair. His bike was the Madone SL.
---
Scott Dueker: I heard a rumor that you will be at the Hilly Hundred Bike Tour in Indiana in October. Is this true and what will your schedule be?

Frankie: Yes, I'm coming ride at the Hilly Hundred and doing a slide presentation about the Tour de France. I'm excited and it should be a lot of fun. I hope to see you there.
---
I have no question for you. I just want to let you know how much I enjoy your diary entries. Even now, I still go back to your 1998 and 1999 Tour de France entries. What a hoot! I appreciate that you tell it like it is, and that really brings the reader into the experience. Good luck, and take care. --Karen

Frankie: Karen, thank you very much. You can check out the last couple of years about the Tour de France at http://www.uspsprocycling.com/. There are some more diaries there from the entire year and also at http://www.bissell.com/.
---
Bob Ingram: Not a question Frankie but I wanted you to know that I just purchased a 2004 Trek 5200 60cm that you signed the top tube on and actually rode that day as a part of a fundraiser. The gentlemen I bought the bike from won it and lives in Spokane, Washington. Wanted you to know that I have it and will always consider it special!!

Frankie: Bob, I just did charity fundraising ride in Spokane this year. It was a great time and I did my slide presentation about the Tour de France. Everyone loved it and we had a fantastic weekend with great weather for the bike ride. Enjoy the bike, it worked great for me. thanks for letting me know.
---
mike joffe: you casually mentioned a few days ago that Floyd Landis would not be with the team next year. did this just mean USPS, or did this include Discovery Channel also. i have looked for news on which teams were interested in Floyd and could only find one mention of Phonak. do you have additional information?

Frankie: Mike, July is talk time about many riders changing teams. Floyd is getting offers from different teams including Discover. After his ride the last few days, during the Tour, those offers will probably will have to increase so many things could change. It's all just talk at this moment.
---
Wayne: Frankie, I enjoyed the tour coverage along with your insight very much. The question that I have is regarding to the nicknames of the riders on the USPS cycling team, and specifically Trikie Beltran. What does Trickie mean and where does it come from?

Frankie: Many guys have nicknames, especially the Spanish. Trikie's name comes from even before he was on Postal Service, this was his nickname for awhile in cycling. The same is for Chechu Rubiera, he has had that name for a long time also. For the spanish they give the riders a nickname because it makes it more personal for them, it's like having a good friend racing instead of a star.
---
How much money does the winner of the tour de France receive (If I remember well he redistributes it between his team?) and what are the average earnings of the riders (like, how much can you expect to earn if you win a stage or if you finish with the green or polka dot jersey)?

Frankie: Thanks, The prize money for the winner of the Tour is 400,000 Euros. The stage wins range between 5,000 Euros. I don't know how much for each green jersey. The total that each team won can be found on cyclingnews.com.
---
Frankie, I'm a great fan of the US Postal Team what are the goals for george for the rest of the season. And is Zabriskie in the vuelta team, he is graet rider with a lot of talent, I hope he will ride the vuelta. Thanks

Frankie: Next up for many guys are the Olympics. After that they will continue to focus on the World Cups and the Vuelta. Floyd Landis and Zabriskie along with the Spanish guys will do the Vuelta. They will have a very good team in Spain and I also agree the Zabriskie is a huge talent and I think we will see some of that exposed at the Vuelta.
---
simon the newbie: as a corrollary to the "pedaling stroke" guy a few spaces down, what do you think of those "powercranks" (website of same name) things? I'm transitioning from marathoning to biking/tris soon and want to translate my aerobic fitness into speed in comparatively short order.

Frankie: Power Cranks are pretty awsome. They take awhile to get used to but they increase strength. They especially help the whole pulling up aspect of it. I know quite a few guys that use them. You will start only being able to do maybe twenty minutes but stick with it and you can build up to a couple hours wich is more than enough.
---
I have gotten many requests about the special cranks that Bobby Julich use. These are the same ones that Bobby used during the Tour and that I did the interview on OLN for the Tour. You can find some information about them at http://www.osymetric.com/
---
John Campbell Frankie, I am the individual who purchased your 1999 classification medal. I am a Cat 3 ,60 year old trackie dentist living in the Northwest. I collect Olympic winners medals and old and current cycling medals and jerseys. I would very much like to add a letter of authenticity to the item that you earned. Jim Hadley said I could contact you.Is it possible to get letter from you and any other item such as a signed jersey which I will gladly pay. This is to be framed and added to a very nice personal collection.Best regards and waiting to hear from you. John Campbell

Frankie: John, I'm glad you won the medal. USA cycling raised a good amount of money to help with the athletic program because of your support. I would be glad to make a letter of authenticity for you. Send me a note with your e-mail and we will discuss what to include in the letter.
---
Mark Shimahara: I saw a preview of Brainpower where you are running from the Start Village to an interview with Tyler. While it looks really cool, it seemed too perfect not to be staged. Are you now acting too?

Frankie: I hope you liked the film. You are right about it being set up but it was during the Tour. They opened up a section of the gates surronding the Village Depart to allow the run out to get to Tyler. After that it was pretty much free for all.
---
dan bukkhegyi: Frankie, do you think that in cycling reduced New England winter, that running will compliment cycling along with a program on the in door trainor, or would it be better, for cycling, to just to power work on the trainor. I am a 9-10k per year roadie, just looking to build power over the winter. thanks.

Frankie: There are two differnt aspects here. One running is great for the winter because the winter is time to cross train and build up the muscles that were negleted during the summer of only cycling. Running will help your fitness and cardio. But take it slow because running is an impact sport and can cause damage or injury easily. You have to be careful. The same applies with lifting weights, make sure you have proper form and don't over do it. The winter is also the time to do strength and power which can be acheived by weights and power workouts on the turbo trainer. Go ahead and run a couple times a week and also include the weights and power workouts. Do the weights 2-3 times a week and the Turbo power workouts 2 times a week. Make sure you include good rest days because it will take longer to recover from all of these workouts. Spread these workouts out over days not necessarily all included in only 7 days.
---
"Bicycle Bill" Scheitzach: Why didn't USPS send Lance to the Worlds in Canada?

Frankie: Lance determines his own schedule and after this year's Tour he thought it would be too difficult to race well in Canada. USPS can not tell Lance to race at Worlds because the race is with your national federation and not with the individual sponsors. This is the single race during the year, except for Olympics, where this occurs. I believe it would have been a perfect course for him to win but concentrating on the Tour de France is still Lance's priority.
---
Steve Linn: Hi Frankie. During OLN's Tour coverage I remember a brief comment about George Hincapie's battle with fatigue earlier this Spring. The commentator stated that he was diagnosed with a parasite. I have been suffering from intermittent bouts of fatigue ever since a trip to Guam. I've suspected a viral infection OR a parasite - but I've had zero luck when dealing with my doctor. Can you provide any information regarding George's diagnosis? Specifically I'd just like to know the name (type?) of parasite, the technique for proper diagnosis, and the treatment protocol. Armed with this information, perhaps I can assist my doctor determine a path to proper diagnosis. I will greatly appreciate any information you can provide. Steve Linn

Frankie: Steve, the extent of my knowledge about George's sickness earlier this sprint is summed up in what you wrote. I don't know any specifics or treatment that George went through. I would suggest going to George's website at www.georgehincapie.com and try to contact him directly. When dealing with such a serious matter having an exact explanation is important. [see a parasitologist]
---
Michael M.: Frankie, after Lance retires, presumably after number 6, how will postal pick a new leader? Is this strictly a management decision or does the team have some say? A question from my wife: If Lance wins his 6th by 10 minutes or so, do you think he might try for another? Great job on the tour by the way. I wish they would drop Ms. Gum and let you and Bob host

Frankie: Mike, good questions. For starters the Postal Service contract ends at the end of 2004. First they would have to commit to continue to have a team. If Lance stops then I'm sure the management would look at riders and decide what the next step should be. The second question, my opinion is that if Lance even wins by twenty minutes it will still be his last Tour. Pure speculation but my feelings.
---
Frank Russo: Frankie; Can you see Tyler coming back to the Postal team?

Frankie: I suppose it's possible but I don't think that would happen while Lance is here. Tyler has capabilities to do great things and if he was on the same team with Lance then he would not have the option to obtain those accomplishments.
---
Ron Baughman: On one of the OLN broadcasts I heard someone yelling to a rider to keep his heels down. Can you elaborate on what point he was trying to make?

Frankie: Ron, I can't stop laughing right now. You are poking fun at me and that was a good one. And of course someone was yelling that, that's what all the fans yell at the riders. cheers..frankie
---
elisabeth : Frankie -enjoyed OLN's Tour with the gang and your interviews and insights. >Quick question (to settle an argument): Could there have been a situation (i.e., very close time differential) where Ullrich would have challenged Lance on the last stage today? I know you generally don't attack the maillot jaune on the last day, but if we're talking just a few seconds, would that have been possible and acceptable? Thanks for your hard work and for an answer! Will be turning it on OLN right now.

Frankie: A lot speculated about that theory but realistic it would be very, very hard to get any seconds on the last day. The sprinters dominate the last day and to think that Jan or Lance could outsprint them would be impossible. The same is if one of them tried to get in a break, there would be no chance of it staying away. These guys know how to control a race and on a flat day they can control the outcome all the way up to the final sprint.
---
Mary Pratt-Steele: I have followed your Tour De France racing for along time,your second place win in the last stage in Paris &your wrong way on the round about,he!he!I was just wondering do you miss riding in the Tour especially when you are there covering the race for OLN?And also,did you get a round of those free drinks from Lance after stage 19?Thanks

Frankie: If anything, being at the Tour reminds me of why I don't race anymore. It's so darn hard, day after day. I miss winning and celebrating victories with the team but I don't miss all the hard work that it takes to be in winning form. I had my time and because I raced for such a long time I'm very comfortable sitting back and watching the others race.
---
Tronador: Frankie - Will you be attending the NATIONAL CRITERIUM CHAMPIONSHIPS AUGUST 16th &17th 2003 this year?

Frankie: Yes, I'm going to the race to work with Schroeder Iron. If you are asking if I'm going to race that is still not decided. Because of the Tour I did not ride for four to five weeks so I don't know if I'll try to race in Chicago
---
TK in A2: Thanks very much for your terrific work at this year's incredibly beautiful Tour. Question: Like many riders, I have had difficuly in developing/maintaining a really good pedaling action on my road bike. I'm making progress, but still have to think about the pedaling a lot to make it work. To what extent do you have to think about your pedaling action, and to what extent is it "automatic"? Put another way, out of every 60 seconds of pedaling, for how many seconds do you actually think about your pedaling action? Thanks in advance for your answer.

Frankie: It's very important to devolpe a round pedaling style. This means pushing down but also pulling up and across the top and at the bottom. A fixed gear bike is very good for the winter time to help with this technique. Once you are able to do it the rest is automatic. You realize it more with big gears on hills. You can also practice by pedaling with one leg, this will emphasis the dead spots.
---
Andy Concors: I just noticed you're from Dearborn were I was born. How did you get into cycling in such a bike unfriendly place in terms of weather and temperment? Also, what do you think the sport needs to do to attract young riders? My kids have done some racing but none of their friends seem interested or even aware of the sport.

Frankie: I lived in Dearborn my whole life and you're right it is not the best for cycling. It's difficult to get young kids involved but parental support does play a big part. Keep your kids interested and give them your support and they should grow to love cycling.
---
vance riley: Is there a way to measure feet in climbing hills? Is there a general rule to look at a hill and get an estimate of how many feet of climbing there is? Also have you ever had to give your bike to armstrong after he crashed? thank you for time.

Frankie: My bike would not fit Armstrong so I never had to give my bike. As for climbing, you just have to look at the difference in fee that the mountain raises to. If you start a climb at 500 feet and the top is at 2000 feet, you would have climbed 1500 feet. Also, at the Tour, if you divide the difference in meters climbed by the lenght of the climb you can get the percent of grade that the climb averages.
---
Kate: We have been following the tour and also your diary entries at the USPS website and wanted to know why we never see Jan standing up on his pedals like lance

Frankie: Jan has a different style of riding than Lance. Everyone has a different style when climbing. Actually, Lance usually sits down and spins on the climbs but when they are going slower, for his pace, he stands to stretch a little.
---
Laura : Hi Frankie-first I have to say that you are an absolute doll and I have a huge crush on you (but alas, I saw the wedding ring). I do have some q's, though: why do so many riders on the Tour drink Coke? I thought that'd be the last thing you'd want. Also, when you climb steep hills, is it better to sit or stand? I'm a triathlete and have a small build, and I find that standing wears out my legs immediately, but I see lots of riders do it-am I > doing something wrong? Thanks so much for taking the time to answer this, and great job on OLN!

Frankie: Laura, the riders drink coke for two reasons. One the Tour is sponsored by Coke so it is the only drink available. But seriously it's for the sugar or caffeine rush. Not only that but many times it's just a few swallows to have something different than water. As for climbing, it's a very individual styler. You are more efficient if you stay seated compared to standing. If the road gets steep then you can gain more power when standing. A lot depends on how long the climb is. I hope this helps and thanks for the kind words.
---
gentry mcgrath: dear frankie, i wrote to you 3 years ago about the USPS team and chiropractic. Watching the 2003 TDF, the commentator has stated that lance armstrong has consulted with an osteopath from italy post dauphine libere. It also appears that lance is self-adjusting his neck and low back on the bike. Is the team still seeing dr. Spencer? Go Lance!

Frankie: Lance and the team do still have Jeff Spencer working for them during the Tour. Lance's adjustment on the bike is more of a habit, he does it all the time during training and racing. It really doesn't do anything but make him feel better mentally. Sometimes that's all it takes.